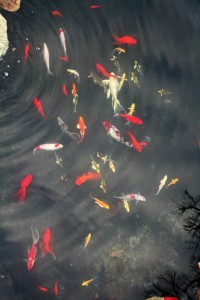 The first summer we put in our pond we were pretty conservative with the number of fish we provided for. I think we started with less than twenty and I worried that even that small number was too much for our 1100 gallons. There was, of course, some formula involving the number of gallons divided by the 'inches of fish' that confounded me, as does most math, so we sort of ignored it and hoped that we didn't have too many fish to overload the filtration system.
Pond books also had me scared to death to actually feed them very much food. I had the idea that if I fed them too much, the pond would quickly go green and the goldfish would grow to monstrous proportions in just one season. So I fed them once a day, if I remembered.
However many years out now… 6 or 7 since we put it in… I've decided that most of what I read in books is baloney. Maybe you have to worry about all that crap if you have a really small pond and man-eating koi, or if you think of a garden pond in terms of an indoor tropical aquarium, or have no means of filtering it, but I've found that it takes care of itself pretty well so long as I just lea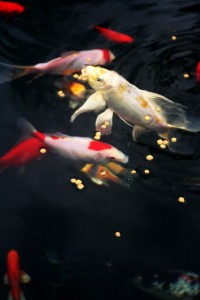 ve it alone!
And the fish, well, they're taking pretty good care of themselves too and multiplying. We added three small koi two summers ago and they seem to really like it here. They've certainly added some color to the mix of babies. Somehow the twenty or so survivors that we started with last spring have turned into…
Well, I'll let you guess. You can try counting them in the pic, but like those count-the-jelly-beans-in-the-jar contests, it's much more fun to just eyeball it and make a guess.
The person who guesses with the closest number wins all of this season's babies!
😉
Note: I've finally added a category in the sidebar for pond posts, so if you should ever be in the mood for reading more, go there.