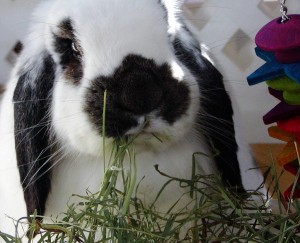 Okay bunny people… I need a pep talk or a kick in the butt or something, please.
Missy… she's 7 years old now… youngish for a bunny, but she's been sick for so long. For at least 3 years I've been trying to manage this respiratory infection she has – Pseudomonas – if you care to read about how impossible it is to get rid of. I did the antibiotics (oral and injectable) but saw little long-term benefit. I tried nebulizing her with little result. So I settled for managing it with long-term Baytril. The last six months or so it's not been managed well at all. The discharge from her nose and eyes is constant; to the point that I can't keep up with it and most of the fur from one side of her face is always in the middle of falling off and regrowing. Not comfortable or pleasant-looking.
The last two months or so she's not been grooming herself at all. Her face is so tender that I almost don't dare touch it. I have to clean her ears for her. She's not able to manage a litter box anymore so I moved her into a hay-filled cage. A desperate act, that, for me. Things just keep getting worse… her bottom is a mess, despite what I can do in that regard. A full in-the-sink-bath (another desperate act) didn't help. She's almost lost use of her back legs and can't get out of her own way. Very sad.
But… she still loves her hay and salads. And perks up to be petted and fussed over. I'm just feeling like I'm not taking care of her properly, like she's beyond getting better and will only continue to get worse. Until it's just all sadness and being uncomfortable, you know?
I don't know that I have it in me to put her to sleep, but it's so hard to watch this happening and feel like there isn't anything I or my vet can do. I think I know what I need to do; I just don't quite have the courage yet.