Surprise #1: My first day back in the office since a week ago and my desk didn't actually look that bad… the post-it note fairy exploded gangs of little pink and white and yellow papers everywhere, but the effect was kinda pretty.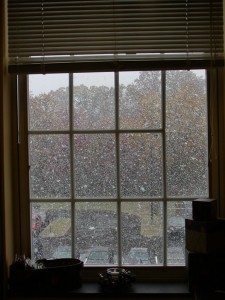 Surprise #2: It snowed today here for a couple hours… big wet flakes that stuck to the orange oak leaves outside the office window. Wasn't I at the beach in a t-shirt just the other day?

😉
I'll be back in a bit with some birds from Cape May.