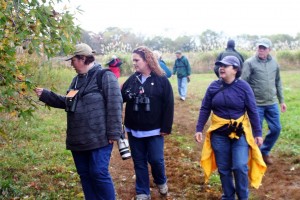 So we were on a non-birdy bird walk, led by my friends Scott and Linda from SHBO, at the Beanery in Cape May. The Beanery can be a very fun place for birds, but it was really quiet in the rain and wind that day.
Good friends or good naturalists can find plenty of ways to amuse themselves when the birding is slow. Mostly we made bad jokes and acted obnoxiously. We had plenty of opportunities to embarrass ourselves this way over the course of the weekend.
Every so often there'd be a new plant we could dork out about, like these sweet gum balls that Lynne wanted to try planting at home in Minnesota or the wild persimmon fruit that I got them to taste just by promising them it wasn't poisonous.
😉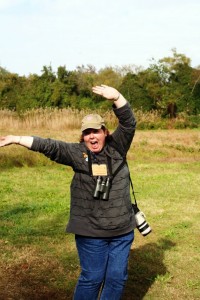 I don't guess many non-birders dance this way when spotting a Black Vulture for the first time. A little nerdy? Yes. Fun? Absolutely.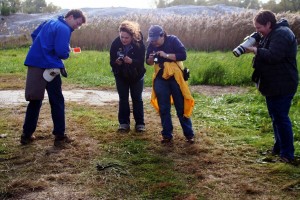 Other than Jay's prodding it with his foot, this is not a typical scene when normal people spot a black rate snake along the trail, is it?
😉
Nerdy.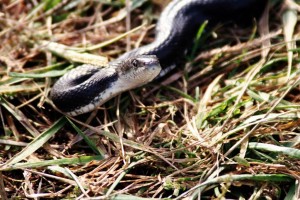 A very pretty snake, btw, though it was a tad nervous with all our cameras pointed its way.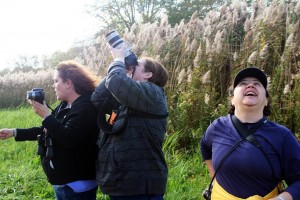 At some point we'd given up on seeing any birds and wandered away from the rest of the group, content to find our own fun elsewhere. Who needs birds when you've got friends that are just as nerdy as you are, anyway?
Note: Susan, Lynne, Jay from birdJam and Delia will not take offense at my calling them nerdy. We're cut from the same cloth, I think. That's why I like them so well.