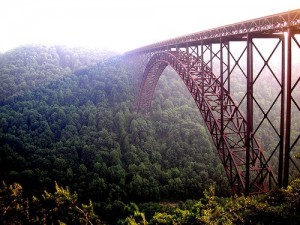 *gasp*

*checks calendar*

The
New River Birding and Nature Festival
is just around the corner!

*rummages through pile of papers to find plane tickets*

*looks askance at very small suitcase*

*mentally juggles space requirements of clean clothes versus camera gear*

*wonders if farmhouse has a washing machine and linens and wireless*

*maid service, maybe?*

*briefly considers pre-writing blog posts but decides most everyone who reads this blog will be in W. Va. too*

*panics*

Please tell me someone of us, someone responsible, HAS IT ALL UNDER CONTROL AND TAKEN CARE OF.

😉

Cause me… my plans extend only about as far as getting myself there. I'm thinking of it as something like the first day of summer vacation. Remember how that felt? You're ten or twelve maybe, and school's out and the world is stretching itself out into one long basking day after another. Maybe your dad's driving the family station wagon to the beach house with his one arm hanging out the window, drumming his fingers on the car door.

I see myself sitting in the backseat (as the youngest, I always got stuck in the back), sitting on one folded leg to get a little height so I can be the first one to see the ocean as we go over the bridge. We're getting there, but I'm trying not to throw up from too much excitement and too much time in the backseat.

Only this time, the air won't suddenly begin to smell like salt and it won't be the ocean I'm aching to catch a glimpse of. Instead there'll be mountains and it'll be
Mary
or
Susan
or
Lynne
(or one of the dozen-or-so others) that I'll be trying to spot first.

It'll be the heart of the day and the sky will be huge and blue. There'll be laughter. And birds singing, beckoning us into the woods. There'll be plenty of time, time enough to squander on pure silliness and the joys of friendship.

That last part may be a mixture of fiction and dream and desire, but I'm anchoring myself there. It's an idea I have inside me. The beach from my childhood that I keep walking on; the summer I keep longing for. That group of friends that belong only to summers past; the ones we built sandcastles and dreams and forts at the pool club with, the ones we watched pack up the family car and go back to real life until next summer.