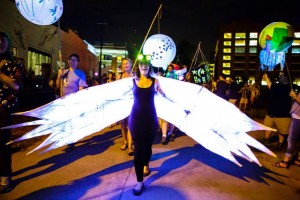 I was the-lady-behind-the-snowy-owl in a thousand photos taken that night!
Given the opportunity, I'll complain to most anyone who'll listen about how much I hate living in the city, but I have to admit (however grudgingly!) that it does have its perks, one of which is the Lantern Parade. It's such a fun event and is unique to ATL…
It feels like everyone in the city comes out and it's a crazy riot of colorful people (and their mostly homemade lanterns) and music. A group of us from the Atlanta Audubon Society walked the two mile route together with our lanterns decorated with birds – mine had monarch butterflies – along with an estimated 15K others. It's a wonderful event for the community; participants come up with a crazy, creative variety of ways to add color and light to the parade and people line the pathway and rooftops to watch. It's held each year to celebrate the opening of Art on the Beltline, an exhibition that I hope to post about later in the week.
I found the video below to give you a peak at the view from above… I especially like the dusk shots at the beginning with the skyline in the background and at the end from the after parade party in Piedmont Park!

Atlanta Beltline Lantern Parade 2014 – Filmed By American Drone Industries from E.T. Phoned Home on Vimeo.