A funny thing about birds in the hand; they're so much smaller than we realize. Sometimes it's even difficult to recognize them for a moment or two, I guess because we're not used to seeing them in so much detail.
Or at least I'm not.
😉
Says Laura who refuses to wear her glasses when birding.
Ovenbirds are handsome warblers; an olive-green back and a white waistcoat spotted and streaked like a thrush. And they have very big eyes! They like to make their dutch-oven shaped nests on slopes in deciduous woods, on the forest floor.
Theirs was one of the first warbler songs I learned, because it's so easy to recognize and so loud! When I first put bird an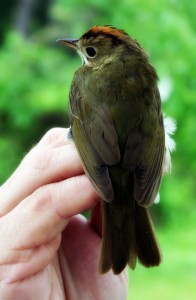 d song together, I was surprised to imagine all that noise coming from such a tiny, inconspicuous-looking bird. Their only bit of color comes from that black-rimmed orange stripe across the top of the head.
The farmhouse we stayed at in W. Virginia was blessed with many ovenbirds in the surrounding woods. That was quite a treat for me as I'm used to having to *go* somewhere to hear their song. Something neat I learned about them there is that they sing at night… a funny sort of flight song, but I can't find it referenced in any of my bird books. Anyone know any more about that?
Please click on the pics to make them bigger, especially that first one. It's sure to make you smile.