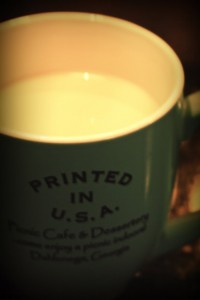 I learned to drink tea with my grandmother. I like it now the same way as when I was a kid – mostly milk and plenty sweet. Tea smells especially delicious, I think, if you're used to drinking coffee.
A cup of tea shared with grandma was a recipe for happiness, as I remember it. All I need now is that first sip to be carried back to her small kitchen; the clink of spoon against saucer recalling my grandpa in the next room, the parlor, listening to a ballgame on the radio.
I don't think my grandmother and I ever did anything especially memorable together, but I remember drinking tea and feeling very loved. Her memory is a joy and one that usually surfaces as a surprise. A cup of tea is the only way I know to will it.