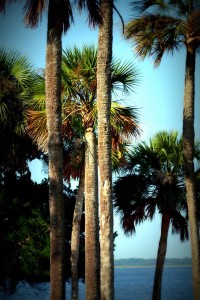 Accessible only by ferry, Georgia's Cumberland Island is said to be one of the least developed places in the US.
Designated as a National Seashore in 1972, most of the island is managed by the National Park Service which limits visitors to 300 at any one time.
There are no stores and no paved roads. The only full-time residents are park service personnel and maybe a couple descendants of Thomas Carnegie who owned the island at one time.
You walk or bike everywhere. Carry your PB&J sandwiches and water in your backpack. If you're smart, you pack a bikini along with your camera and binoculars for the inevitable mid-afternoon swim.
Georgia is hot!!!
There's a necessary death march across the island, through its ruins, saltwater marshes, maritime forest and dunes before you get to dip your toes in the ocean.
It's worth it, though… and there's neat stuff to see along the way.
It's remote.
And wonderful.
And very, very hot.
😉
I'm not sure how many days into this trip it was before I stopped feeling dumbfounded by the sight of palm trees. Is that normal? I mean, do they have that effect on everyone or just people from NJ or just silly me?