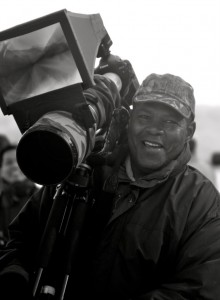 This is Otis… he's a photographer from Virginia. We met today at the Conowingo Dam in Maryland where we were both photographing the bald eagles that congregate there in the winter.
Truth be told, with my little lens, I was mostly photographing the other people that were photographing the eagles…
Talk about camera envy!
I hesitate to call anyone I met today a stranger… there's a certain camaraderie that exists naturally among birders and others who enjoy the outdoors. I do know, however, that many of us prefer to remain behind the lens. Otis was an exception to that and I was glad for his smile (and to know that much of his set-up, intimidating as it looks, is homemade and affordable.)
More about the eagles in another post.
This photo is #2 in my 100 strangers project. Find out more about the project and see pictures taken by other photographers at Flickr 100 Strangers or www.100Strangers.com