"The observation of birds may be a superstition, a tradition, an art, a science, a pleasure, a hobby, or a bore; this depends entirely on the nature of the observer."
–James Fisher
There was no particular motive that spurred me to buy binoculars and a field guide; I simply found myself doing so one day. In this same "why not give it a try" manner, I found myself walking beside long-abandoned railroad tracks a few weeks later on my first organized bird walk. My epiphany about birds occurred that day in the form of an Indigo Bunting. The unfamiliar binoculars were more of a handicap than a useful tool, but once I managed to find a bird with them and achieved focus, my field of vision was entirely occupied by the peculiar blue of an Indigo Bunting. Time seemed to stop and it felt as if the world contained only that bird of otherworldly blue and me. This is the magic that birding holds for us, I think; that loss of self-consciousness and the greater perception of the other in our lives. My instinct that first day was, and still is, to bow down and pay homage to the presence of the wild around me.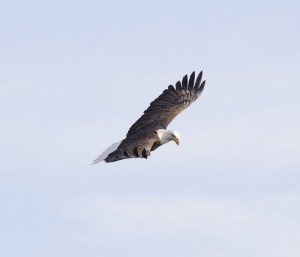 I once read an article that suggested, perhaps tongue-in-cheek, that birders, rather than being immersed in a sport, or a simple game of recognition, or some benign form of hunting and collecting, are instead involved in something strange and archaic, something more like a pagan religion than a hobby: a cult of bird worship, a theology inspired by the natural world. While none of us actually worship birds (at least I don't think any of us do!) an examination of our various rituals, from the casual to the most fanatic among us, might lead to an understanding of our reasons for watching birds. There are many reasons, probably as many reasons as there are people who do it, just as there are countless levels of experience or devotion to the craft of it.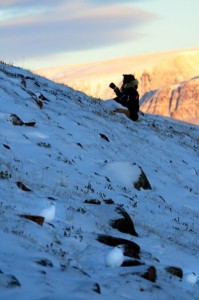 Only slightly less devout are the enthusiasts who keep not only life lists, but year,
world
,
month
, country,
trip
, state,
day
,
competition
,
day-after-competition
, pond,
yard
and seen-while-driving lists.
Yes, I'm poking mild fun at listers.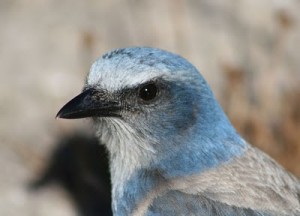 By necessity, birders become
specialists in categorizing the birds
they see and must develop the virtues of
careful observation
and
ruthless honesty
by which a species may be legitimately added to one's list. And while sightings often occur to individuals, birders do form a
unique community of shared experience
. It is this
sense of community
that teaches us to see, to feel and to act in a reverential manner and to understand
the frustration a birder feels
when birds aren't where we hope to find them.

I imagine the most fanatical among us drifting off to sleep with visions of 700 birds for their ABA year list or traveling to
far-flung locations
, visiting
newly-restored wetland habitats
on the other side of the world, rising at dawn to stand in a
freezing cold Minnesota bog
, visiting malarial swamps, the tropics (only to see
familiar birds in an unfamiliar place
), or
heaven-forbid New Jersey
of all places… so long as there are birds to see. This level of devotion to birds may come at
a high expense to one's personal relationships
and provoke
heartfelt appeals
for the conservation of bird species.
I'm not sure where I would place myself among this hierarchy of birders… I've never traveled to a tropical rainforest or studied bird skins, but I have held the feathery spirit of an Ovenbird while it was being banded and sat contentedly for hours while a pair of Orioles built a nest in my backyard. I can distinguish the song of a Pine Warbler from that of a Chipping Sparrow, usually. I've slept in a cold and damp tent in the Blue Ridge Mountains happily serenaded by Whippoorwills and crawled on my belly in the sand of countless beaches hoping for a masterpiece photograph of a Sanderling, sidelit by a warm September sun. All of which feels very much like the telltale signs of a fully-fledged birder. Most of my experiences with birds are deeply personal and so ineffable and idiosyncratic that I don't often know how to talk about them, but I try here on this blog to understand the ways I'm changed by these encounters with birds and the natural world.
I think what makes this cult of ours unique is our susceptibility to be awed by the world around us and our inclination to celebrate that awe with others. We know well the joy that is revealed in pursuit of what is beautiful and sacred. Birds can lead us to reverence for all life and the grace of seeing the extraordinary in the everyday.
– – – – – – – – – – – – – – – – – – – – – – – – –
Thanks to everyone who sent submissions for this edition! Direct links to their posts are below, in the order in which they're used in my rambly essay. There are some really fabulous bird blogs out there – please visit a couple new ones today! Deb is hosting the next I and the Bird at
Sand Creek Almanac
on 3/4/10.
– – – – – – – – – – – – – – – – – – – – – – – – –
IowaVoice.Com – Eagle Flying Over River
**
Listening Earth Blog – Subsong of a Grey Shrike Thrush
**
Living the Scientific Life – Mystery Bird: Least Flycatcher, Empidonax minimus
**
Round Robin The Cornell Blog of Ornithology – Live from the 2010 Ornithological Conference in San Diego
and
Field Report: Birds that Sound like Kazoos
**
Birds Etcetera – Drought and Birds: Dew Bathing
**
Ben Cruachan – Ripe Fruit
** Photo from
The House and Other Arctic Musings
**
The Hawk Owl's Nest – Puerto Rico Day 1 & 2
**
Sycamore Canyon – Big January 2010 Photo Essay
**
Count Your Chicken! We're Taking Over! – Trinidad and Tobago Day 10: Part II: Rufous-tailed Jacamars
**
From the Faraway, Nearby – It's a Nice Day for Some White Birding
**
Picus Blog – Bloggerhead Kingbird Wrap-up Post
**
A DC Birding Blog – Scoping for Seabirds
**
Nature Knitter – FeederWatch Wednesday
**
Somewhere in NJ – Sea dog, jetty birds and the distance
**
Xenogere – Bad birds of Aransas
**
Microecos – Aeronauts
**
Search and Serendipity – Purple Martins in Snow and 100,000 blackbirds
**
Wanderin' Weeta – Blue summer, green spring
**
Coyote Mercury – Hummingbird Heading Out to Sea
**
Behind the Bins – Still in Winter's Icy Grasp
**
The Nutty Birder Blog – Lakefront and Eagle Creek
**
The Miss Rumphius Effect – Thematic Book List For the Love of Birds (Poetically Speaking)
**
Beginning to Bird – Rio Grande Valley, Birding Day 2
**
Woodsong – Wowed by Owls
**
It's Just Me – Sharing the Air
**
Nature Remains – Buckeye Birds
**
Bird TLC – How about a transfusion for lunch?
**
Susan Gets Native – Some time on the scale, everything you ever wanted to know about raptor poop but were afraid to ask, and Lucy plays a game
** Photo from
Vickie Henderson Art
**
Vickie Henderson Art – Florida Scrub Jays A Specialist Species
**
Recycled Photons – The Obvious, Unseen
**
Andy Gibb: Twitching with Transformation – Good News, Bad News
**
The House and other Arctic Musings – Best GBBC twitch, ever
**
My Life with Birds – Dispatch from Space Coast Day One
**
The Greenbelt – Anchorage Corvids
**
10,000 Birds – Riding the Ecoroute
**
Peregrine's Bird Blog – WWT Castle Espie
**
Hasty Brook – Sax Zim Bog Winter Birding Festival
**
The Drinking Bird – Guatemala: Familiar Birds in Unfamiliar Places
**
Ohio Birds and Biodiversity – Return to Joisy
**
Birdchick.com – Dear Non Birding Bill
**
The Birder's Report – California Department of Fish and Game Exposed: Burrowing Owl Guidelines Suppressed
**
Anybody Seen My Focus? – Great Blue Heron (Ardea herodias)
** Photo from
From the Faraway, Nearby