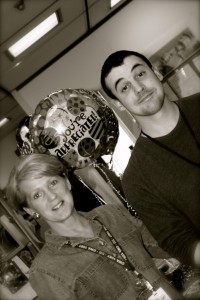 We said goodbye to our student-intern today… Brian is working on his MSW at the school where I did my graduate work and has been with us since September for his first "field experience".
Mainly he worked with Mo, who was responsible for supervising him, but the rest of us had the chance to work with him in the office or on field days… a great guy, but sooo young!
He did a couple home visits with me when my coworkers insisted I have an escort in the bad neighborhoods I visit… we both laughed at the silliness of that, but it was nice to see this shy and soft-spoken guy come into his own with clients. I let him do the work of the visit, be it interviewing the client or negotiating repairs with a landlord, very curious to see if his timidity and lack of confidence would come across so obviously with others…
It didn't! He did really well I think and seemed serious and aloof, instead. There was a good lesson for me in that experience because I often tend to be uncomfortable with playing particular roles in my job; with landlords especially. Rather than laughing and "making nice" like I'm inclined to do in an uncomfortable situation, I could see the benefit of not saying much and just letting the client or landlord squirm and wonder…
😉
Field experience is so very important in many professions… social work, teaching, nursing. Those of us inclined to that type of work are idealists and dreamers, I think, and the realities of the work can hit hard if you're not prepared for it this way.
Anyway, we sent Brian off with our best wishes and a day filled with food… a spread for breakfast and lunch and finally dessert with cake and ice-cream. We'll miss him!