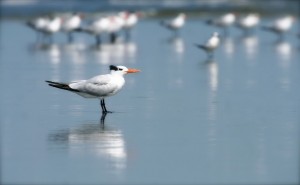 For the longest time, I just didn't "get" terns. Nowadays I can't seem to get enough of them!
For the beginner, I think they're hard to separate, but the more time I get to spend with them, the clearer the contrasts become.
Distinguishing Royal (foreground) from Caspian (background) had felt so abstract until I saw them on the beach together at Sapelo… even out of focus, the Caspians are burly by comparison and there's no mistaking the red of their bill for that of a Royal.
Note: I'm catching up with posting some old photos that I hadn't yet blogged… these from the beach in October are warming my chilly bones.