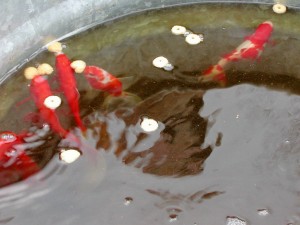 April Fool's Day is usually when we resume feeding the goldfish, using cheerios at first, because they're easily digested. We started cleaning the pond last weekend, so my husband caught most of the fish and transferred them to this 100 gallon metal tub. We set them up with a bubbler and they're safe while we clean out the pond.
Because we didn't clean the pond this fall and never got a net over it, we really need to do a thorough clean-out. It's full of leaves and muck. The shallow end of the pond and the beach area have small river rock over the liner and this accumulates a huge amount of yucky stuff. It's a really dirty job, so I supervise and take pictures.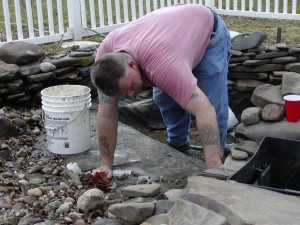 😉
My husband decided we should take all the river rock out and rinse it. It needs a good cleaning, but there are gazillions of rocks to wash. He got his April Fool's surprise this morning when he was scooping through the pebbles and came up with a handful of frog! Said he nearly tumbled backward into the water and muck he was so startled by it! We don't know where this frog came from, but as they say, "If you build it, they will come".
We lost tr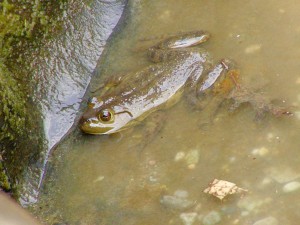 ack of the frog for a while after it jumped out of the bucket he put it in for safekeeping. We found him again later way down at the bottom of the pond trying to hide in the muck. Not sure what type of frog it is, does anyone know? I don't see the ridge on its back that green frogs have, so I'm guessing it's a bull frog. We had a bull frog last summer that was eating our fish, so this guy may be dangerous; although he's not nearly as big as the last one. I feel kind of bad for disturbing him, but he needs a new place to hide while we drain the pond.
Once we've got the rocks clean enough, we'll refill the pond, add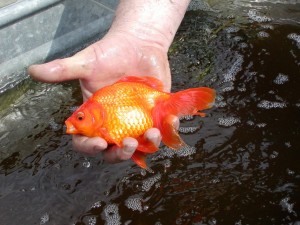 dechlorinator (the only chemical I use) and let it sit for a week or so before we put the fish back. We'll have to buy all new plants this year because all the lily tubers turned to mush over the winter. It'll be fun to shop for new plants. The photo at right is our biggest goldfish, given to me by a friend from work last fall. It had grown too big for her indoor fishtank, so we added him to our pond. I was concerned he wouldn't make the winter, but he seems to be doing okay – not quite as fat as he was in the fall, though!