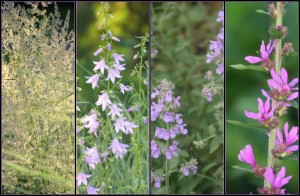 "Everything that grows is both beautiful and abundant, lavish and luxuriant. If there ever comes a time to take five minutes at the end of a long day and consider the teeming generosity of this earth, this must be it." – Hal Borland
Taking five minutes at the end of each day, with camera in hand, to consider the blooming bounty of my garden leads to an abundance…. of photographs! I remember longing for such color and finery just a few months ago in the depths of winter.
I focused my attention this evening on the upright, lance-like plants that are blooming around the pond. The flower stalks on this tall grass were impossible to photograph, but so beautiful backlit by the setting sun.
To the right is Ladybells (Adenophora liliifolia) a favorite, and easy to grow with good moisture. The nodding bell-shaped flowers lead to another of its common names, False Campanula. A beauty and compensation for my utter lack of ability at growing foxgloves and delphiniums.
Next, the flower spikes of catmint, which is very generous and grows everywhere in my garden to keep the bumblebees occupied.
Lastly, the noxious Purple Loosestrife (don't hate me Susan!) which grows in the bog garden beside the pond. It behaves well there – I help it along by deadheading religiously so as not to allow it to disburse its seeds, but mostly I think the Joe Pye Weed that grows beside it keeps it in check. The Joe Pye is already twice the size of the loosestrife and needs to be pinched back before long, otherwise it will tower over the rest of the bog at 4 feet or more.