My garden goes all to hell this time of year. I'm tired of weeding and dragging the hose around. The shorter days don't leave much time for it, even if I were inclined to be out there doing those things after work. The wild things that have been quietly growing beside their more manicured neighbors take full advantage of my neglect and shout out to the neighbors that a lazy gardener lives here. There is beauty in this chaos, but it's hard to see that from curbside. My husband, with his inclination towards neatness (only in the yard!), is aching to cut this flower bed down. It has no sense of propriety and is arching over and falling onto *his* precious lawn. So far I've kept him at bay by pointing out that this bed of white snakeroot, swamp milkweed, and Joe-Pye has nestled two monarch chrysalises in its shady depths and there could be others who need just a week or two (or three) more to finish their business here.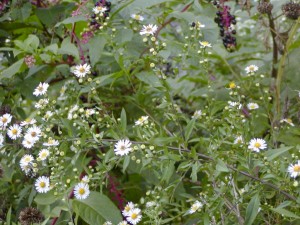 I never planted the snakeroot, but it found its way here from somewhere and wants to take over. I leave it be because it's not very noticeable until it blooms and then it's beautiful. The pokeberry in the picture above is something we fight all spring and summer long, but now in fall we leave it to flower and fruit. The small white aster (maybe aster vimineus?) is a new volunteer brought on the wind. I'm amused to find wildflowers growing here of their own accord, when there are so many flowers that I nurture with little success.

This summer we suddenly have goldenrod growing in the bog garden beside the pond. Where did that come from? I tried to figure out this evening what type of goldenrod it is, but was only able to determine that it is very different from the *cultivated* one I grow across the yard. This is where the writing spider made its pretty web a few weeks ago, and each evening I go out to see what new bugs are feasting on it. There is an assortment of flower flies that I don't know how to identify, and fuzzy bumblebees, and locust borers that mimic wasps.
One summer a guy that worked for my neighbor mowed my *wildflower patch* down in late summer, just before all the plants were to bloom. He was mowing the lawn and got carried away with himself, I guess. By rights, he was entitled to do so, as part of this garden is technically on my neighbor's property. I was most fit to be tied though when he told me he did it because "it's just weeds, man!" If that's the way you see the world, well, so be it. But, they're beautiful weeds. My husband takes care of the neighbor's lawn now. Out of the goodness of his heart. 😉