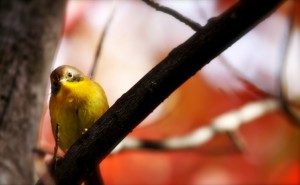 Atlanta's Centennial Olympic Park is ~the~ place to see confusing fall warblers… the trees are young and small so, in theory, you can see the birds easily, down low.
I've had parts of 14 species of warblers there in the last couple weeks:
Most all of this young Common Yellowthroat…
The water-tossed mantle of the Black-Throated Green in last week's post…
The pale supercilliums of many Tennessee Warblers…
The briefest of looks at the yellowish wing bars of a Chestnut-Sided Warbler…
The white "handkerchiefs" on a handsome Black-Throated Blue…
The indistinct dull olive of a young Blackpoll…
(You get the idea!)
Are warblers still passing thru where you are or is it winter already?