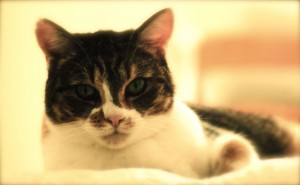 Everyone else is doing cat-blogging, so why can't I join in the silliness?
; )
This is Belle. She's a pretty cat. She runs to sit in my lap at every opportunity. She kneads my soft belly with her claws. She looks at my bunnies like they're dangerous and might infect her with some terrible cuteness. Her breath smells like fish, usually.
How do cat people stand that?
I'm such a dog person by nature and by choice. I had cats as a kid and as an adult had taken to saying that cats were okay so long as they were other people's cats.
; )
There's a dog park down the street and I'm sort of haunting it in my pining for Luka and some doggy-love. I steal kisses from strange dogs I meet when out hiking. I'm developing a friendship with a lady who has four, hoping she'll let me borrow one from time to time. I carry biscuits in my pockets and am considering a career change to professional dog-walker.
Honestly, don't you think dog and cat people are wired differently, somehow?
Is there some book I can consult to help me understand the strange mincing about on tippy-toes they like to do first thing in the morning? Why the black one chooses to sleep curled up on the dark steps where I can easily trip on her? Why they invite me to pet their furry bellies and then attack my hand with teeth and claws? Why Belle stops mid-step and glares at me from across the room? Why they prowl around in the dark, yowling?