I've been seeing pictures of this sky-blue grist mill for years and decided today to visit and see if the building really is that blue. Pretty, isn't it? Not quite the color of the sky, but close. More like robin's-egg blue.

The grist mill is located at Historic Walnford and is now part of the county park system. The site has been recently renovated and includes a Georgian-style mansion, carriage house, and other farm buidlings like a corn crib and cow shed.

The mill, situated on Crosswicks Creek, still operates for demonstration purposes and is powered by a turbine rather than an external water wheel as I expected to find. The creek is shallow and slow and could no longer carry goods by boat from Walnford to Philadelphia as it did during the 18th and 19th centuries. It is, however, still a popular spot for fishing and canoeing.

The communities surrounding Walnford are some of the most rural in our county. The only time I usually get to this area is when I visit the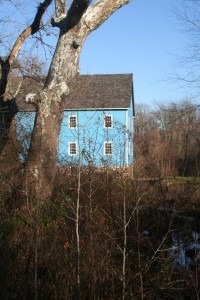 rescue that I adopt my bunnies from, but I really enjoy the little backroads that travel past horse farms and a winery or two. That's another NJ surprise – we grow grapes here.

Traveling a bit further west today I came across a picturesque old town that I would like to revisit if I ever get in the mood for holiday shopping. What interested me most there today was the old mill pond filled with hundreds of snow geese. Quite a sight and a surprise this far north as I usually drive an hour or more south to see them in the winter at the wildlife refuge near Atlantic City. The only explanation I can imagine for their presence here are the many sod farms in the area. I would love to have a pic to share, but my camera battery died after taking pics at Walnford. Hopefully I'll find the snow geese again on my next visit. There are more pics of some of the other buildings at the Walnford link above and I may post a few from the interiors on another day.