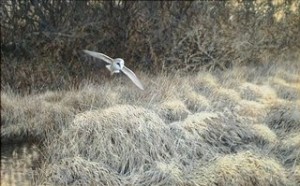 My head still being elsewhere tonight, I offer you a borrowed painting from a wonderful artist named Alastair Proud and a borrowed poem by Mary Oliver.

Lonely, White Fields

"Every night
the owl
with his wild monkey-face
calls through the black branches,
and the mice freeze
and the rabbits shiver
in the snowy fields-
and then there is the long, deep trough of silence
when he stops singing, and steps
into the air.
I don't know
what death's ultimate
purpose is, but I think
this: whoever dreams of holding his
life in his fist
year after year into the hundreds of years
has never considered the owl-
how he comes, exhausted,
through the snow,
through the icy trees,
past snags and vines, wheeling
out of barns and church steeples,
turning this way and that way
through the mesh of every obstacle-
undeterred by anything-
filling himself time and time again
with a red and digestible joy
sickled up from the lonely, white fields-
and how at daybreak,
as though everything had been done
that must be done, the fields
swell with a rosy light,
the owl fades
back into the branches,
the snow goes on falling
flake after perfect flake."

I've just recently started reading Mary Oliver's poetry after seeing it referred to on various nature blogs. I like the way she so often relates to something in nature and surprises me with the images she creates from words. I like the feel of this poem, but I'm not sure that I understand what she is telling me here.
– – – – – – – – – – – – – – – – – – – – – – – – – – – – – – – – – – – – –
In other news, we had our first snow of the season today – a few snowflakes for about 30 seconds! I think they said on the news that this is the latest date on record for snow in NJ.

– – – – – – – – – – – – – – – – – – – – – – – – – – – – – – – – – – – – – –

If you haven't already, please consider submitting a photo for this Saturday's Good Planets to me at lc-hardy AT comcast DOT net. Thanks!