Welcome to this week's Good Planets show. As usual, our beautiful earth does not disappoint.

Dave from Bird TLC in Alaska shares this photo of a Bald Eagle about to snatch a meal from the snow. The shot was taken by a friend of his, Britt Coon.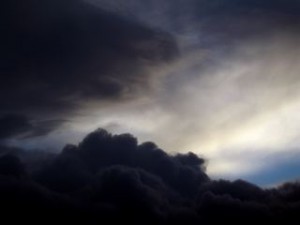 Amanda from Old Girl from the North Country took this pic looking east into a Northwest Washington sky on a day when it snowed.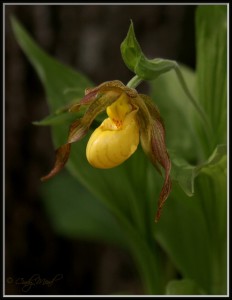 Cindy from Woodsong sent this image of a yellow lady's slipper orchid that she photographed near her home. She says, "they grow in colonies and self seed- the yellows get quite tall before they're done, at least a foot 1/2 high.. they grow in a 'bunch' and they're hard to shoot since most of the slipper-petals all face in different directions, so I try to isolate one blossom, which isn't always easy. And yeah, sometimes I get on my belly for florals.. the trick is getting back up :)"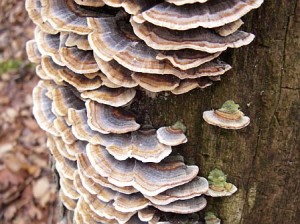 Lindsay shares this beautiful pic of turkey-tail fungus. I know a few of you who will enjoy that!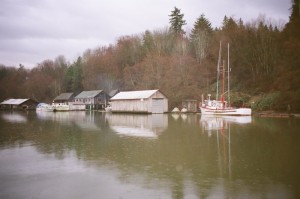 Susannah of Wanderin Weeta sent this pic of boats and weathered old buildings.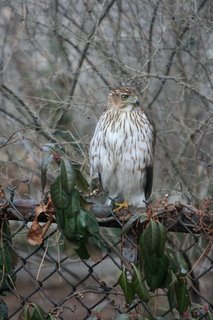 Sarala sent this pic of a juvenille Cooper's Hawk that posed briefly in a tangle in her garden.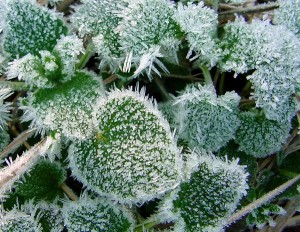 Karen at Rurality shares this pic of hoarfrost on an unknown weed in her yard.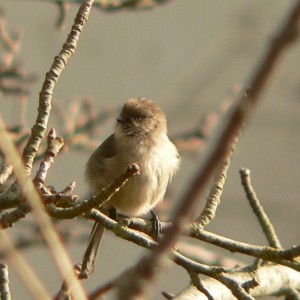 Robin of the Dharma Bums sent this photo of a bushtit.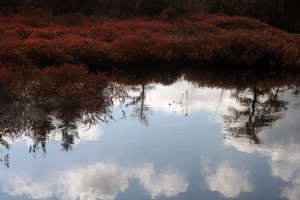 Whorled Loosestrife (thanks Bev!) and a reflection of the blue sky at Whitesbog in the NJ Pine Barrens, photographed by yours truly.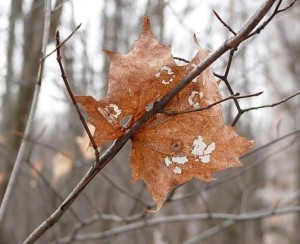 Kerrdelune of Beyond the Fields We Know shares this breathtaking pic of a maple leaf caught in the wind in eastern Canada.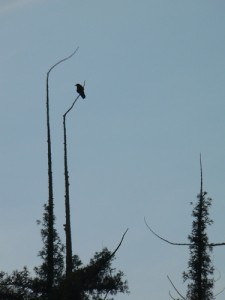 Liza at Egret's Nest offers this pic of a lone raven near Boulder Creek.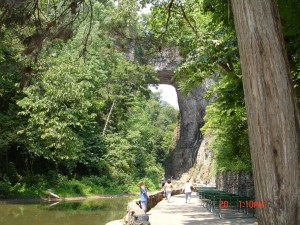 Maggie from Banter, Bones, and Breath sent this pic taken on vacation in Virginia.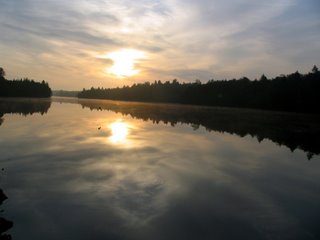 Naturewoman wanted you to see this image from the Adirondacks in upstate NY.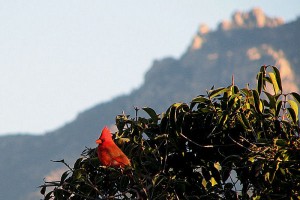 Pam at Tortoise Trail shares this pic of a beautiful male cardinal with the Santa Catalina Mountains in the background, north of Tuscon.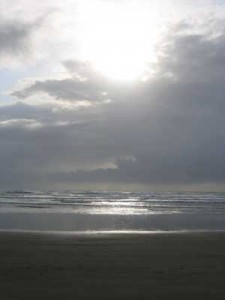 Cathy at Left Curve offers this serene ocean view from Canon Beach in Oregon.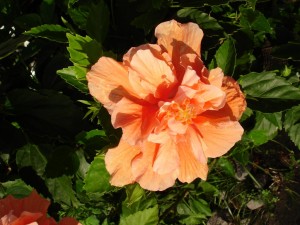 Evan sent this lovely hibiscus flower; this photo was taken in Saba.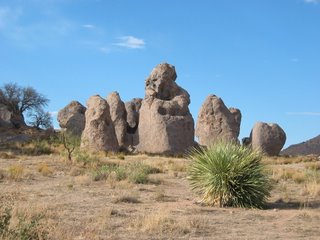 Bunnygirl sent this pic of the City of Rocks. The City of Rocks is a grouping of big, smooth rocks on an empty plain near Deming, NM. With nothing of note for miles around, the rocks seem to have grown out of the earth, and by some accounts, that's exactly what happened. The rocks go on for a long way, and the park has dozens of campsites nestled among them. Camp there on a clear night with a full moon, and see what a mystical experience it can be!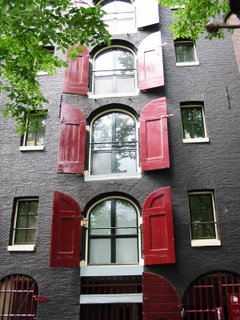 KGMom sent along this colorful pic of shutters in Amsterdam.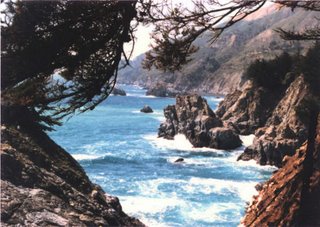 The Fat Lady Sings shared this photo of her favorite secret cove in Monterey, California. This is one of my favorite places in all the world. Through these trees, down a narrow little trail is a tiny cove, protected from wind and weather. I'm sure it's been discovered by now – but 20 years ago, when I took this picture, no one else seems to know of it. I would go there almost every weekend – sitting on the sand, listening to the gulls, tasting the sea air. Trust me when I say the picture doesn't do it justice.- I'm afraid it's no secret any longer!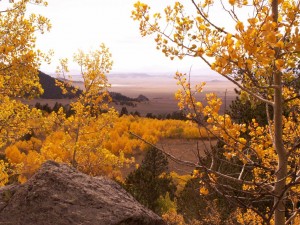 Finally, Cathy at Looking Up sent this image of fall-colored aspens.
– – – – – – – – – – – – – – – – – – – – – – – – – – – – – – – – –
Good Planets will be appearing here for the last two Saturdays in January and will then move to Wanderin Weeta for the month of February (mail to susannah AT dccnet DOT com). Until then, please continue to send your beautiful pics to me at lc-hardy AT comcast DOT net. Many thanks to those submitting photos this week. Also to the Dharma Bums and Tortoise Trail for continuing support (technical or otherwise). All photos (past and present) are archived at the Good Planets Flickr gallery.
– – – – – – – – – – – — – – – – — – – – – – – – – – – – – – –
*Note to photographers: Please leave a few details about your pic in the comments here to better describe them. I wasn't able to access the descriptions each of you sent me by email and had to describe each pic from my memory of how you described them. My email account is acting up tonight. Hopefully I didn't invent any details or otherwise make too many mistakes.