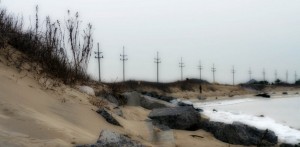 The contented person enjoys the scenery of a detour. – Author Unknown
I headed out of the house late this afternoon with scope and camera and no real plan about where I might end up. I was hoping to find the large rafts of scaup and goldeneye than I'd heard mentioned on the bird hotlines; the river had begun to freeze during the last few days of cold weather so I thought they might be hanging out in the bay, but there were only the usuals there.
I know of one other spot on the river where large groups of scaup often settle and set about trying to get there. The problem is access. While I live in an area surrounded by rivers and marshes and the ocean, it's near impossible to get to any of them because of the multi-million dollar homes that line the shores of every waterway. I swear those views are wasted on the wealthy! We commoners have to settle for the view from the one public dock along the river or the bridge that spans it, but of course the ducks were nestled in that little cove beneath the castle on the far shore. The dead end street that runs beneath some of those mansions on the water is often a good place to see ducks close, but when I finally found my way there today and got ready to set up my scope – along came two fire trucks with sirens blazing, followed by a few police cars, and then the blue-light yahoos and off the ducks went to the far shore of the river.
But I did have this view from the day – from the bay side at Sandy Hook with the company of gulls and a few cold fisherman.