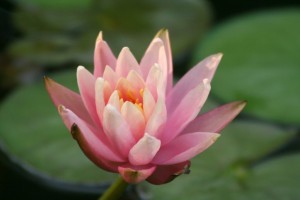 How significant that the rich, black mud of our dead stream produces the water lily; out of that fertile slime springs this spotless purity! It is remarkable that those flowers which are the most emblematical of purity should grow in the mud.
– Henry David Thoreau, from a journal entry

I felt like looking at water lilies today, so I'm posting this pic from last summer of one that grows in my little pond. I've forgotten the name, but water lilies tend to be mislabeled when I buy them anyway. It's beautiful, that's enough!

My guilty pleasure for the day was going to a bookstore during my lunch hour. I bought a charming book of nature quotes, poetry, short essays, and watercolors called Meditations on Nature, Meditations on Silence published by Heron Dance Press. Their books are beautiful and I snatch them up whenever I come across one. Heron Dance also has a website that you might like to explore.