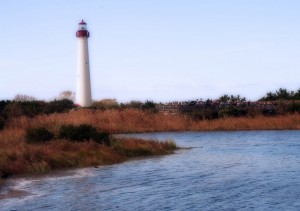 In case you've missed mention of it elsewhere or, for those of you in the know who need something to focus your anticipation with (Lynne!) I'll pass along a link to the Cape May Bird Observatory's newest website called BirdCapeMay.org – lots of neat features there and just the thing when a cool Fall weekend seems years away.
A few of us girls: Susan, Mary, Lynne, Naturewoman and me are planning to meet at this year's Bird Show in Cape May 10/26-10/28. Maybe you'd like to join our merry gang for a day or an hour or two? The bigger the flock the mer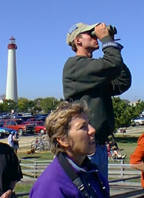 rier, right?

Kind of strange, but I came across this pic of me, back when I had short hair – at least I think it's me – on a website while I was searching around for some info on Cape May. I've been going down for years, but don't remember when this was. I remember that purple coat, though. The guy standing behind me must be the hawk counter; he looks very serious about it, doesn't he?
Anyway girls, we need to get some plans together! The Fall will be here before we know it. Be in touch, okay?