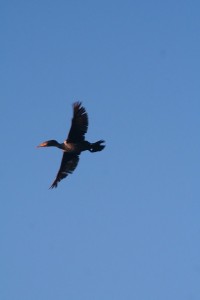 It's been a long week and I'm feeling about as beat up as this cormorant looks. I didn't have a normal lunch hour even one day this week and the weather's been crummy and hot or rainy so that after work I haven't been able or willing to spend very much time outside. All work and no play makes Laura pretty cranky!
I'm halfway through my training period with the new job and had mid-point evaluations today. I'm doing fine, but of course there's always some area that *needs improvement*. Uggghh. Why doesn't it get any easier to take criticism as I get older?
At any rate, I'm looking forward to the end of August when I'll be finished and will either have the job or not. I'm looking forward to being able to take a day off. Just today my husband played hookey and went crabbing without me. Bum! I'm trying to find the energy and inspiration to do something fun this weekend besides clean the house and catch up with laundry. I may just sleep away the whole weekend if I'm not careful. Anyone have something fun planned?