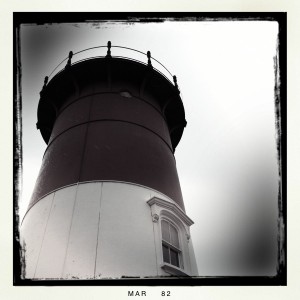 "Sometimes just looking up and seeing the light is enough."
~Terri Guillemets
Birders are a generous lot, as a rule. Mention on FB that you'll be visiting a particular place and before you know it, birder friends will have dinner plans and an itinerary made for you, including convenient stops along the way from the airport where you can find whatever species of bird it is that you're pining after.
I'd been pining away for Piping Plovers, it being March and all. March is the month when plovers return to NJ beaches from wherever it is that they've spent the winter months. March in the Northeast is the most miserable of months, I think, because Spring is so close on the horizon and you want it so badly, but the weather is dank and damp and mostly miserable, cold and gray.
On the tails of a short vacation in Florida, a couple days on Cape Cod in March seemed an impossibility… I'd given away most all of my cold-weather clothes before moving here and going from shorts and flip-flops to thermal underwear and gloves in the span of a week felt ridiculous! But… there might be Piping Plovers!
I spent an afternoon wandering around the city of Boston… remembering the cold and delighting in a Dunkin' Donuts on almost every corner! Spring had the willows in Boston Commons that lovely green that willows know how to perfect.
Weeping willows are not very common here. Surprising that I should miss them…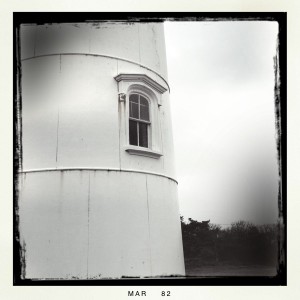 The coast of Florida is, of course, beautiful and I'm glad for each and every chance to visit, but beaches there lack something that beaches in the Northeast have in abundance. It might be the wind that never rests. Or air that is thick with salt and the smell of low tide. Oh, how I miss that smell! Maybe it's just atmosphere and the feeling of home. There are beautiful and scenic places where I live now, but no easy access to the ocean.
We met up with a local Cape Cod bird club and spent an appropriately cold and misty, rainy morning on the beach at Nauset Light (thanks for the suggestion Mojoman!) looking at winter birds. We wandered along dirt roads on the Cape looking at ducks and exploring the ponds that Mary Oliver described in her poetry.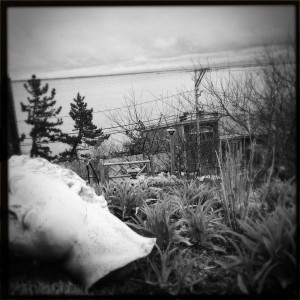 We stayed at a bed and breakfast perched on Gull Hill in Provincetown… and scanned the harbor for breaching whales while we had afternoon wine and cheese and watched Northern Gannets dive into the ocean from the warmth of our rental car at Herring Cove Beach.
Race Point Beach had plover fencing installed, but no Piping Plovers, yet.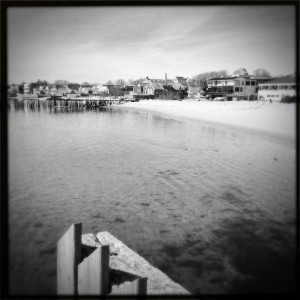 Compensation for the lack of plovers was found at the wharf in P-town, where we found Harlequins and Common Eiders within spitting distance! Eiders have always been one of those birds for me… I'd never had a really satisfying look at them before and anywhere that one can see Harlequins without a treacherous jetty-walk (like at Barnegat Light) is worth a visit.
Of course I didn't have a proper camera with me, you know.
Silly.
I'd love to get back to Cape Cod in the summer someday… maybe even visit Nantucket. I'd imagine late September to be the perfect time of year… maybe I could catch the Piping Plovers before they depart…