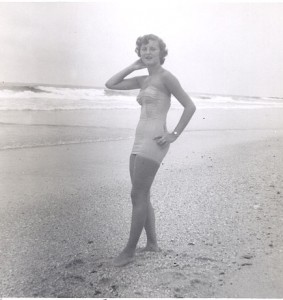 Despite what I love to tell people to the contrary, I do sometimes wish I had a mother to tell me what to do.
I lost my mom when I was just 11, so it was up to my dad and big brothers to look after my growing up. I've had to make do with snippets of female wisdom garnered wherever possible, be it from a neighbor or one of my brother's girlfriends, for most of my life. A lot of the people I might have expected to be there for me as a kid without a mother never were. I like to think of that as a testament to their confidence in my father, rather than proof of their indifference to me.
I figure I turned out to be a pretty good person, but wish someone had taught me to cook and iron and manage laundry properly. My mom must have done those things for my dad, so he had to fend for himself, too, when she passed away. He did his best to learn quickly and even managed to cook for us and was quite inventive in the kitchen. I remember just one occasion that might be considered a *cooking lesson* and it involved pie dough and a rolling pin, and a lot of yelling and cursing. Can anyone make a pie crust without cursing? Anyway, I sometimes feel that I lack a certain finesse for things feminine as a result. Shopping, decorating, hair and makeup – I'm clueless.
The older I get, the more I see the influence of my father in my personality and way of being. I blame him for my obstinacy and tetchiness. These I consider good, strong traits in myself, but I never thought of them that way in my dad. Oh he was stubborn and could hold a grudge for ages! I may be the picture of my mother, but underneath I am all my father, like it or not.
I've been blessed since adulthood by a few older women friends who've taken me under their wing when I needed help or guidance, or just needed help in learning how to do something that comes *naturally* to other women. Carol who taught me to tie pretty ribbons on packages and how to crochet, Joan who listened to me bawl and complain as a first-year teacher, Merry who modeled a life of quiet wisdom and acceptance, Kathy with her urgings to be independent and carefree in my love for the outdoors, Linda who shares recipes and beauty tips.
These may be little things in the making of a woman, but are important to the sense of self and to fitting in among other women. That's not ever been easy for me and for the most part, I won't be bothered with it. (There's that obstinacy, again!) I often wonder though what women cherish about their relationships with other women and with their mothers. I wonder if it's the same things that the tomboy in me as a child saw with such wonder.
I'm sharing another of what my brother calls *cheesecake* shots of my mom. Looking at her there, I'm reminded of something else I never learned: confidence in a bathing suit!