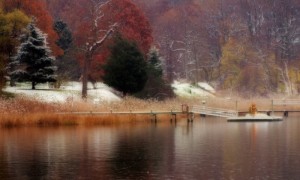 Little more than a dusting before it turned to rain this afternoon, but enough to make things especially pretty in the neighborhood. I love the juxtapositions in this shot – it was autumn only yesterday, yet someone lucky enough to have their own dock on the river has set out a little Christmas tree to hold back the darkness some and cheer up my view. And it's all dusted with just a hint of snow. This is one of my favorite spots to pass by when I take the long way home from the beach; a little cove on the far side of the river where wigeon call from the shoreline. I don't think there's any sweeter sound until February when the oldsquaw are courting.
Signs of Christmas are popping up everywhere but here at home; there was snow on my porch pumpkins this morning and on the red peppers and gourds that I haven't gotten around to picking from the garden yet. I'll catch up one of these days, honest I will!
I've dreampt up another assignment for the camera happy among you. Find something festive and quirky that makes you smile. Send along a photo and we'll laugh together at the goofy ways peole like to display their cheer for the season. Would two weeks be long enough? A deadline for Friday, December 14th? Quirky is the key word, please!