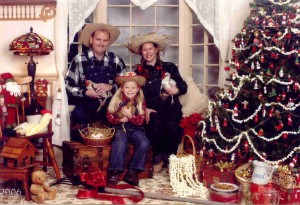 Bear with me as I gear up to that quirky xmas decoration post – I'm delighting in some other examples of quirkiness!
Is it me or is this not your normal family xmas pic? Before you think anything too untoward, be reminded that this is my brother Kevin and his wife and daughter. And yes, those are real chickens they're holding – their chickens! I can just imagine the scene with my SIL bringing those little banties into the photographer's studio along with all her other *props*.
This was last year's card and the one for this year hasn't arrived yet, but I had some hint of the *theme* for this year's shoot a few days before Thanksgiving when the SIL wanted to send me on a shopping run for matching aprons to complete the cooking concept of this year's pic. I honestly don't know how she comes up with the creative energy to think these things up and then the time to carry it through so well. How could I not look forward to receiving a card like this?
I'll admit to being terribly bored by most xmas cards and think them to be a waste. Most I throw away immediately. (Shame on me… I know!) The ones I keep secreted away in a special box are ones like this, or those with photos of my friend's kids, or the handmade ones, or the ones from special friends or family who take the time to actually write something meaningful. Cause, let's face it, often it's the only time we hear from a lot of people and if you're going to take the time to send a card, couldn't you also be bothered to write a little something in it as well, besides your name?
😉
Every year I look forward to a card from Joan who mentored me as a first year teacher. She doesn't write much besides an update on a few of the kids we taught together and the fact that she's almost (but not quite) ready to retire. I recognize her deliberate teacher's block print on the envelope and smile at the thought of what news her hand will bring me.
There's always a handwritten note tucked inside the card from the director of the bird observatory where I volunteer; Pete's sure to wish me well in the new year and thank me for volunteering for them for more years than either of us can remember.
I don't know… I feel like cards aren't worth the effort if they don't communicate something beyond the standard greeting pre-printed on the inside. What do you say? Any in particular that you anticipate each year?