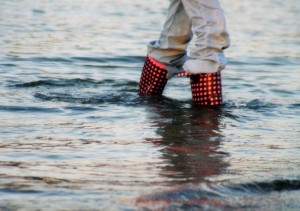 I've been playing with this forever; trying to get an essay written that I can share with my family and that feels true and right. I even went so far as to make both of my brothers write one, with the idea that their memories might inspire some of my own. Theirs are great and touching, but they didn't have the desired effect on my own writing… I'm still struggling along with it. One of these days, whenever mine is finished, I'll share them all here.
Anyway… part of what that template causes you to reflect on are some of the stories that make up the history of your family. That started me thinking along the lines of the crazy things we were led to believe as kids. Those little lies our parents or older siblings told us to fuel our imaginations or to make us behave or to frighten us or even, maybe, to make the everyday seem magical.
The lies parents tell is a popular blog subject, apparently, but this post was a favorite among the many I came across.
I made a list of the things I could remember being told and would imagine that many of you will share a similar list if you were to think of it. Maybe you find yourself repeating the same lies to your own kids for the sake of convenience or whimsy.
– "If you don't eat something, you'll blow away in the wind!" (A favorite of my Grandpa's.)
– "I promise I won't let go." – when the training wheels first came off.
– "Of course we leave the hall light on for you all night." (I was especially scared of the monsters that lived under the bed.)
– "Your teeth will be ruined if you keep sucking your thumb." (My oldest brother was probably in braces at that point and all those wires and rubber bands looked really scary to 7 year old me.)
– "Your face will freeze that way."
– Sitting too close to the TV will ruin your eyes.
– "You'll catch a cold if you go out like that!"
– "You're too young for coffee… it puts hair on your chest."
– Fibbing makes your nose grow.

Mostly harmless, right? Little lies. Have any to add?
And then, of course, there were the real lies we grew up believing:
– "If you tell the truth you won't get in trouble."
– "You'll understand when you're older."
– "It'll only hurt for a second."
– "I'll be right here when you come back."