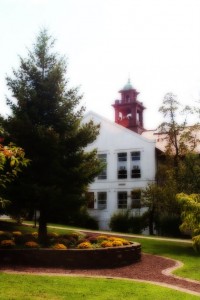 While I was up in North Jersey on Friday to visit the hawkwatch site, I took a stroll around the campus of the college where I did my undergraduate degree.
When I was a student there it was still just a college and not a university like it is today. That change is mostly superficial, I guess, yet I went there fully expecting that I wouldn't recognize the place for all the new buildings that have been constructed since I graduated. I was happy to find that the core of the campus was unchanged and that the feel of the place was the same to me. It does feel much more grown-up somehow, though, with a cafe attached to the library, a diner right on campus and its very own train station.
I spent an hour or so sitting on the familiar benches outside Partridge Hall, which used to house the Department of Spanish and Italian, where I spent the majority of my days for those four years. It was only twenty years ago this month that I started there as a freshman, after all.
Cripes! Where did twenty years go?
In the blink of an eye…
I'd started college as a Political Science major, of all things, but mostly C's and a D or two (plus the riot act from my dad) convinced me that Poly Sci most probably wasn't where my talents were.
How exactly I ended up as a Spanish Translation major is less clear in my memory, but I suppose I might have been influenced by the mission-style architecture of the campus, or my Spanish-born uncle, or more probably that I mostly always got A's in Spanish without very much difficulty.
😉
Anyway… Spanish was a good fit for me. Not as easy one, as Montclair State is blessed with a diverse population and an excellent faculty that hardly ever cut me any slack as the only non-native speaker in most of my classes. One of my professors often 'complimented' me on my 'creative' use of the language, in fact.
😉
I never was able to make a living doing the type of translation work I love – literary translation – nor was the year spent doing legal and medical translations very lucrative, but I think I've been lucky since then to be able to make use of my undergraduate degree in most all of the jobs I've held over the years. That's probably more than can be said for my friends who stuck with Political Science.
Of course I'm denying the fact that I had to get a graduate degree to be able to make any real money (as if!) but that's another story, anyway.
It was nice to spend a couple hours there and see myself 18 again with the whole world for my imagining.