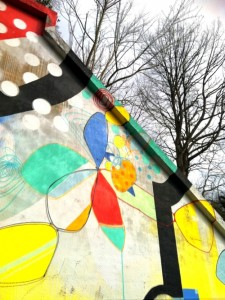 I'd been waiting ever so patiently (not) for that glorious day that felt like Spring for the first time and it finally came on Saturday last. I sat in the sun for a couple hours and finished the latest Barbara Kingsolver book. It's a good one; I'd recommend it, especially when combined with some overdue sunshine.
I seem to have lost all tolerance for cold weather. Probably that happened around the time that I moved here and threw away most all of my winter clothing in the process.
Spring happens differently here… everything is coming into bloom at once. Daffodils and Redbud and Forsythia and Azalea are all screaming for my attention at the same time. It's hard to relish any one thing.
In an ongoing effort to keep myself busy, I'm starting volunteer training later this week to be a docent for Trees Atlanta in their Beltline Arboretum program. I'm doing this so that I can lead bird walks on the Beltline for Atlanta Audubon and be able to sound as intelligent about trees and art and the history of Atlanta as I do about birds. We'll see how that goes.
: )
I've been reading a lot of cooking blogs these days and I think that, more than anything, this attests to just how out of sorts I'm feeling. I hate cooking, remember? I do enjoy reading about it, though, and enjoy the excuse of trying out a new recipe because I saw it on a favorite blog. Anyone have a good cooking blog to share? The blogs I enjoy the most are written by people who seem to approach cooking the way I do… as something like a science experiment. I like reading about their failures and mistakes because it makes me feel less incompetent myself…
Do you like scones? I have a couple recipes that I use often… a favorite is maple walnut scones. I tried dressing them up a couple weeks back with frozen blueberries that were leftover from some we'd picked last summer. I was wholly disappointed with the results… those frozen blueberries had no flavor whatsoever!
It turned out that the frozen blueberries I'd used were actually black beans. Ask me what they were doing in the freezer. Ask me, too, how I didn't realize they were black beans instead of blueberries.
It's good to be able to laugh these days.