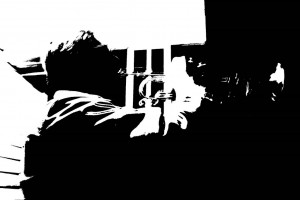 We've always done a funny thing in my family at midnight on New Year's Eve. Some people shoot off fireworks; we go out on the stoop and bang pots!
Anyone else do that?
I wonder if it isn't a city thing that my parents brought with them when they moved down here to the shore. Growing up, I remember a few other families in the neighborhood that did it, but I've not met anyone since that looks for the biggest pot and the klankiest utensil as midnight approaches.
😉
I think if I were to do it in the neighborhood where I live now, there'd be police at my doorstep within minutes. But if I get together with my brothers on New Year's Eve, there's sure to be pots.
And Brian playing the trumpet to add to the racket out there on the stoop.
Listening to him tonight, playing first Auld Lang Syne and then Reveille, I felt that sense of melancholy that seems almost inevitable on this night; another year done. Reveille tends to turn that around pretty quick tho.
😉
I wonder Kev… did Dad play his horn on New Year's Eve too, or am I imagining that memory?
Hope it was a happy and safe night for all.