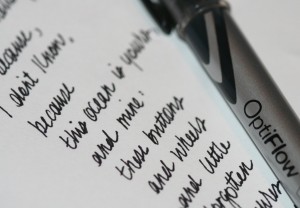 I'm funny about pens; I prefer markers, actually, and they must have the finest of points that flow smoothly without skipping or stuttering ink across the page. They needn't be expensive; for years I've favored a fine-tip marker made by Staples that costs $5.00 for a dozen.
There's something wonderful those pens do for my handwriting; they make it look like practised calligraphy, almost.
😉
Pablo Neruda wrote a whole book of Odes to Common Things, but I'm not sure he ever wrote an ode to a pen…
I love
all
things,
not because they are
passionate
or sweet-smelling
but because,
I don't know,
because
this ocean is yours,
and mine:
these buttons
and wheels
and little
forgotten
treasures,
fans upon
whose feathers
love has scattered
its blossoms,
glasses, knives and
scissors-
all bear
the trace
of someone's fingers
on their handle or surface,
the trace of a distant hand
lost
in the depths of forgetfulness.

From Ode to Things by Pablo Neruda
What are some of your favorite things, special forgotten treasures of your everyday life… hats, flower vases, compasses, the velvet feel of a particular chair…
Share, please!
BTW, Dave at Via Negativa wrote a series of Odes to Tools that is just delightful. Enjoy!