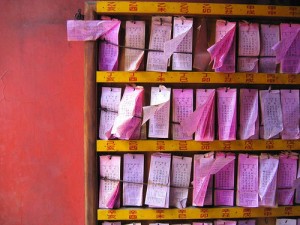 Everyone (!) at my job was officially notified today that for reasons of economy and efficiency we are subject to layoff effective May 1, 2009.
Well.
The fact is that within our agency (Planning and Resources, Social Services, Mental Health and Addiction Services, Office on Aging, Office on Disabilities, and Veteran's Internment) ten positions are being abolished. Ten people (some of whom are my friends! and have worked there for 20+ years!) received individual notices of layoff today. We all received a general notice of layoff or demotion because of the kooky way that civil service works…
If someone has what's called displacement or *bumping* rights, they can exercise that right against another employee's position in order to remain employed. The *bumped* employee may also have displacement rights and cause the layoff or demotion of another employee in a lateral or demotional position. Sort of a domino effect from top to bottom.
So while my position or that of anyone else in my unit isn't in jeopardy, there's the chance that any of us could be bumped into a lesser position (if we're lucky) or bumped right out the door if there isn't some other unfortunate soul with less seniority.
Makes for great morale and a pleasant work environment, really.
Image lifted from here.