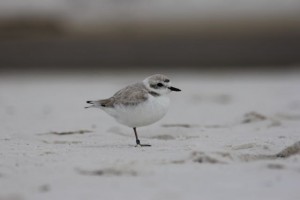 Considering all the time I've spent in Florida the last couple years, you'd think I'd have seen a snowy plover by now, right? Well, I FINALLY got my life snowy at the end of last year when we spent Christmastime at Cape San Blas on the Gulf Coast of Florida.
Cape San Blas is one of my favorite places on the "forgotten coast" – not too many people, no condos or hotels, and a 30 minute drive to a decent restaurant or grocery store. My kind of place!
I very nearly stumbled over this bird! It was so totally camouflaged in its winter plumage (and so tame!) that, were it not for its movement, I never would have seen it. I wonder how many others I've stumbled past without ever seeing…
You might notice in my photo that the bird is banded – only one leg is visible – I found out that this bird is a regular winter resident at St. Joseph's State Park on Cape San Blas, but that it breeds elsewhere.
Snowies are sweet birds – small and plain compared to the piping plovers I know so well – but pretty similar in their habits. And like other Florida birds, exceptionally tame. I wonder why that is?