Spring has returned. The Earth is like a child that knows poems.
~Rainer Maria Rilke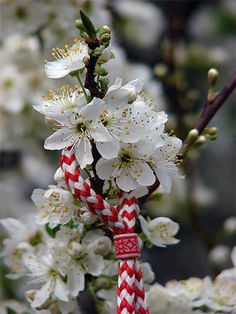 On the first day of March, a coworker from Bulgaria gave me this Martenitsa made from red and white yarn to wear as a bracelet until I saw my first sign of the coming spring: a swallow, a stork, or a flowering tree. Wearing the Martenitsa in the meantime would assure me of good luck and health in the coming year. I'm happy to report that just yesterday, I found a suitably beautiful blooming tree on which to hang my lucky charm, as the Bulgarian ritual dictates. Winter is officially over!
Have any spring rituals of your own to share? Ever heard of this one?