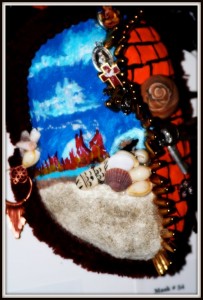 In an effort to raise awareness of issues surrounding HIV/AIDS, housing, poverty and justice, clients and supporters of The Center in Asbury Park participated in a mask-making project that resulted in an amazing array of one-of-a-kind works of art.
During the face casting process, each *face donor* was asked a series of self-reflective questions; the answers were then used by the artists to depict the face of the person. Found objects were used to decorate the masks as a way of mirroring the experience of homeless persons who make do with the resources available to them in their daily travels.
The masks were auctioned off tonight as part of the local commemoration of World AIDS Day and I stopped by to see the exhibit. I'd been hearing about the project for months through a couple of my clients… some of whom *donated* their face for a mask… of the 60 masks, this was the only one I thought looked familiar.
😉
Were you aware of anything happening in your community today to commemorate World AIDS Day?
A video about the project is available on YouTube by clicking here.