"The resemblance between Cooper's Hawk and the Sharp-shinned is not confined to color, but extends to habit, the Cooper being, if anything, because of its superior size, fiercer and more destructive. It will dash into the farmyard like a bolt, passing within a few feet of individuals and carrying off a young chicken with incredible swiftness."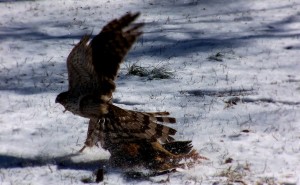 "The attack is accomplished so suddenly that, unless the gun is in hand, the robber always escapes. There is no time to run even a few yards for a weapon – the thief is gone before it can be reached. If there is plenty of thick cover in the run, the chickens will often escape, especially the more active breeds, like Leghorns. At my home, I have repeatedly seen them strike, but as the foliage is dense and brushy they have invariably been unsuccessful in securing the quarry. In four years we have not lost a chicken by Hawks."
An idea, maybe, Kev?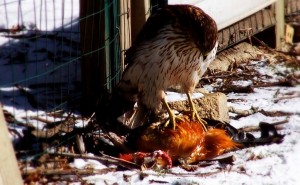 "Cooper's Hawk is preeminently a "chicken hawk" and is by far the most destructive species we have to contend with. Although not so large as the Goshawk, it is strong enough to carry away a good-sized chicken, grouse, or cottontail rabbit. It is especially fond of domesticated Doves, and when it finds a cote easy of approach or near its nesting site, the inmates usually disappear at the rate of one or two a day until the owner takes a hand in the game."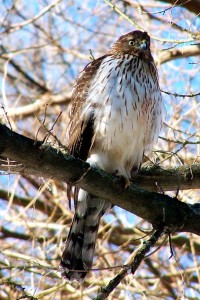 How field guides have changed in 90-some years!
Hawks, however, haven't changed in all those years. Late winter is lean for them and they're getting desperate. Backyard chickens make for an easy meal. I'm glad my brother saves his ire for the woodchucks that raid his garden and reaches for his camera when Cooper comes-a-calling, rather than a weapon.
Reference info from Birds of America, first published in 1917.
All pics by the Reluctant Chicken Farmer.