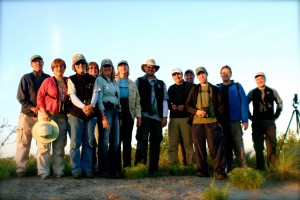 They were almost delirious enough around 7 pm to smile at my camera without much prodding beyond, "Time for the obligatory group photo everyone!"
😉
We'd been out for better than 12 hours at that point and had just about tallied our total for the day, save for the odd swallow and a bittern that never materialized. It was a fabulous day for birds… the kind of day where you just want to plant yourself in one spot and watch wave after wave of migrants come to you; it was that good! Sandy Hook can be spectacular under the right conditions and this year's World Series of Birding was just such a day. We ended with a record-setting (for us) 143 species!
And to think some birders go midnight to midnight and traipse across the whole state for less.
😉
Bad bird pics to follow, shortly. Previous posts about WSB are gathered here.