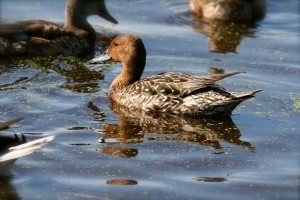 I'd intended to post a "bad bird photo of the week" tonight, but this is not it.
Stop laughing. I can hear you, you know.
; )
I was at Cape May this past weekend and between the swarms of monarchs and tree swallows, which I mean to get to talking about eventually, there was an hour or so spent puzzling over the ducks at Lighthouse Pond in Cape May Point State Park.
I love ducks, but this time of year is awful for trying to identify any of them. There's juveniles and females and males in eclipse plumage… basically meaning that no duck looks the way we expect them to… there's hints to their identity, of course, but puzzling one's way through bill and eye color is time-consuming and generally against the way I like to enjoy birds.
This bird was a puzzle we eventually gave up on… we'd called it a teal for a while… eventually settling on a Cinnamon Teal, even though we *knew* that wasn't right…
Today there was this from The View at the Cape identifying this duck as a Northern Pintail. We'd never guessed that, I don't think… some weird Wigeon, maybe, but a Pintail?
Of course it's obvious to me now that I know what it is…
: )