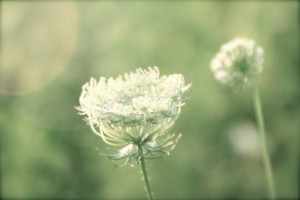 "Nature repeats itself in many forms. When I look at Queen Anne's Lace, I see outer space. When I look to the sky, I see flowers."
Some of you may have known Bobbie at Almost There and remember that she passed away back in late June of this year. I never met Bobbie, but we often kidded about meeting someday down at Cape May where she lived. In fact, I tried talking her into coming along on a Flock gathering many times; Bobbie was my Dad's age and I guess the thought of running around with a couple crazy-birder-types seemed like too much to her. I'd have been content to sit beside her on a bench beneath the lighthouse and listen to her stories instead.
So I went this morning to her memorial service at Leaming's Run Gardens and listened to her children tell her story, mostly by sharing excerpts from the writing she'd done through the years. Much of her family history and personal insights were included in a small memorial book… the opening quote about Queen Anne's Lace came from there… and this offered me a better appreciation of a woman I'd admired from afar for the last couple years.