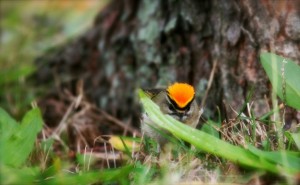 If only I'd gotten this hairdo…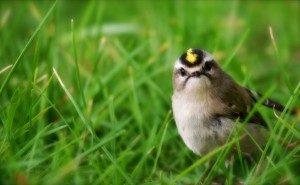 combined with this expression!
: )
(I can't stop giggling at this pic!)
I wandered around Sandy Hook hoping for my first Brant of the season, but found none, despite they're being "in" already. Instead I spent the afternoon kicking up Golden Crowned Kinglets from the grass at my feet… such endearing little birds once you get eye level with them.
Eye level to a kinglet today meant parking myself in a sunny spot in the grass where they were feeding and waiting for them to come close enough… which garnered many a curious glance as I focused my lens at nothing very obvious to most people passing by.
It strikes me that bird photography, by necessity, is a solitary pursuit…
The post title refers to a translation of the genus name Regulus to which the kinglets belong; historical names include Flame-crest and Fiery-crowned Wren. The orange patch is only visible when a bird is excited or challenged by another. I think that's what the show was about in that top photo, as two birds were feeding very close together at the base of the tree.