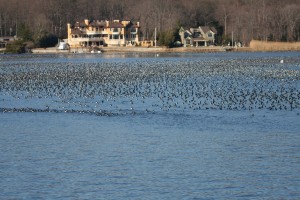 So there's been this huge flock of Scaup resting at the base of the Oceanic Bridge between Rumson and Middletown the last couple weeks… quite the spectacle for local folks who never pay attention to such a thing.
Busy with tennis and lunch dates, you know.
*snark*
I was glad to find people there, glad to find "normal" people curious about this big conglomeration of ducks that seemed to appear from nowhere.
The great mass of them were Scaup sp. with a couple Red Heads mixed in, Brant and Ruddies at the fringes of the flock.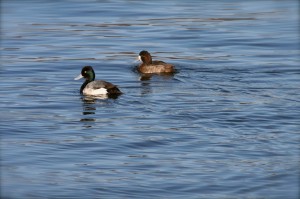 While I "know" that these are mostly Greater Scaup, I wondered what wisdom Crossley might have to offer…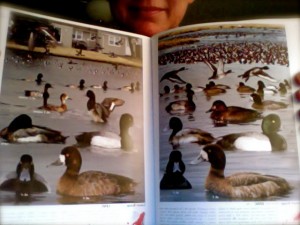 Lesser on the left… Greater on the right
Greater is known to form large flocks in winter in coastal estuaries.
Check.
Frequently mixes with very similar Lesser Scaup.
Durn.
Sometimes obvious, but at other times separating from Lesser a real head-scratcher.
Yep.
Iridescent green head often appears black, but rarely purple.
Check!
I finally saw that purple iridescence on a couple Lessers on Lake Como this weekend and it's so very obvious when the light is right…
(one hardly needs to pay attention to the bulgy cheeks of the Greaters that Crossley mentions!)
I'm enjoying sorting through the local waterfowl with the new Crossley Guide… have you bought a copy yet? What do you think?