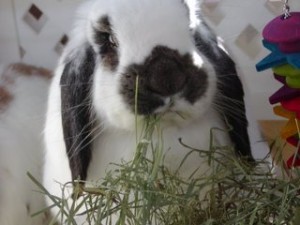 It occured to me today that I hadn't yet posted a photo of my first bunny, Miss Buns. Boy would that make her mad!
I've had Missy for just over 4 years now. She and Freckles came from the same pet store, before I understood that rabbits are better obtained from rescues and shelters.
Missy is a very bossy rabbit, like many girl bunnies. She has definite opinions and is not afraid to express them by thumping or nipping! She and Freckles lived together (both spayed, of course) for 4 years and Missy terrorized sweet Freckles for most of that time. They were generally loving with one another, but not bonded or in love like Boomer and Cricket. Missy would get in a mood and Freckles had to put up with being bossed and chased around their habitat. Ever since Missy got sick this summer and had to spend 2 weeks at the vet getting better the two have lived apart. Freckles aparently has decided she would rather live alone.
Missy is doing well, but has slowed down a lot. I wonder how much of that is due to the heart condition and chronic respiratory infection or if it is simply that she is lonely and bored. She eats very well, but spends most of her time napping. She continues to do binkies (although wobbly ones) in her pen sometimes in the morning when I bring her salad – especially if there is lots of dill – that is her absolute favorite!