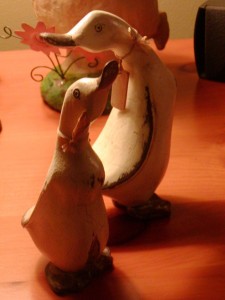 My husband and I took a ride today to Peddler's Village in Lahaska, Pa. – the drive was short – only about 1 1/2 hours. Closer to home is Smithville, which we usually combine with some birding at Brig. Believe it or not, we didn't get lost despite the easily distracted navigator (me!)

We did some shopping and had lunch at the tavern. I spent too much money on things I don't need (like the adorable pair of ducks at left). We've been doing some remodeling at home and are finally buying proper furniture after 12+ years of marriage, and I've decided that I'm tired of looking at bare walls and empty shelves. I hate to spend money on silliness like this, but they do make me smile! We found them in one of the shops that had the primitive-style country crafts that I like.
There was also a lovely shop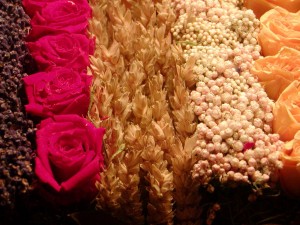 that sold imports from France – beautiful things! I couldn't resist this dried flower arangement; now I just need to find the right place for it – and figure out how to keep it from getting full of dust! My poor flash photos don't show the intensity of color – the deep red and yellow of the roses together with the lovely purple of the dried lavender. Just gorgeous!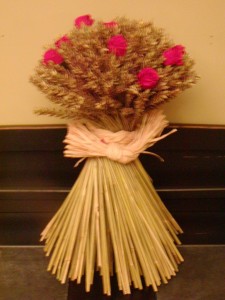 A few weeks ago we drove to Conneticut to pick up a huntboard for our dining room and plan to go tomorrow and order the farmhouse table we picked out locally to go with it. The table is huge – really too much for just the two of us -but it will give me a good excuse to have holiday dinners here at home after all these years. Anyway, I thought these dried roses were a perfect contrast with the black-painted wood of the huntboard.

The DH is snoring in front of the TV, tired from all the driving he did today; and I've got bunnies to feed and love on. So, I'll have to share the rest of my finds from our road trip on another day.