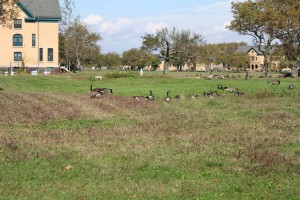 Today was my volunteer day at the Sandy Hook Bird Observatory. This is the view to the right of our center. Are you wondering why I'm posting this bad photo of Canada Geese? Well… I had a surprise visit today from Patrick, another SHBO volunteer and the face behind The Hawk Owl's Nest and his buddy Mike from 10,000 Birds. Patrick was giving Mike a tour of the Hook. Mike made a comment that he's not sure I bird anymore because I never blog about birds. So I felt obligated to post this pic of some birds. Oh, and about 10 minutes after you guys left, Tom B. called to report a possible MacGillivray's Warbler – not sure if that panned out, but you know Tom's penchant for finding the rarest of birds!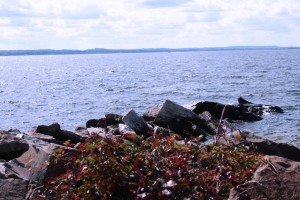 Back to the photo tour. Laura from Vitamin Sea and Lene from Counting Petals wanted to see water views. This is the view from the front porch of the bird observatory; technically, you have to walk off the porch and cross the road to see the color in the poison ivy or whatever that is growing at the base of the rocks, but Sandy Hook Bay is gorgeous. Today when I arrived it was cloudy and raining and there were thousands of swallows migrating low over the water and high up in the sky. There were also lots of Monarchs migrating today and nectaring on the goldenrod that blooms along the dunes.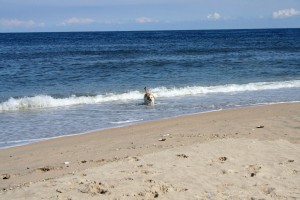 I ventured to the ocean side to get a pic of the water and sand, so that Lene could imagine sinking her toes into it. There were a lot of people out with their dogs once the storm had passed and I enjoyed watching them play in the water. I made the mistake of sitting down in the sand to take pics and the big galoot in this picture came bounding up to me and mugged me with his wet face.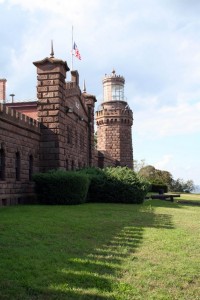 On the way home I visited the Twin Lights lighthouse in Navesink. I haven't been there since grade school, even though I drive by at least once a week.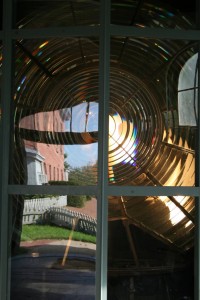 This pic is of the old 9 foot bivalve lens that had been used to guide ships into New York Harbor and was one of the brightest navigational lights used in the US. The lighthouse was decommissioned in 1949 and a smaller, and much less powerful commemorative light replaced it in 1962.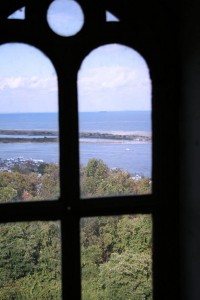 Taken from inside the working *twin* light. Going up the spiral staircase was much easier than coming down! Dizzy city!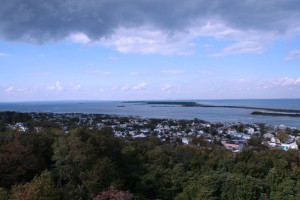 View from the top of the lighthouse, Sandy Hook is that long spit of land jutting out into the horizon. I enjoyed taking these snapshots today and will post some others in the coming days. Feel free to add a request!