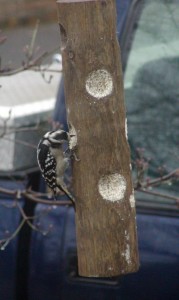 This is a new suet feeder that I bought a few weeks ago at Wild Birds Unlimited – it doesn't seem to have a catchy name, but then it's just a hunk of wood with a few holes drilled where you stuff the suet. Mine came pre-filled, but when the birds have emptied it, the store sells new suet plugs.

Suet provides extra calories that birds use to keep warm during the winter. Some people also feed suet during the summer, but I don't do much bird-feeding then, other than the goldfinches.

The birds ignored the new feeder for a few weeks; it's only in the last few days that it's getting any action. The starlings and grackles are staying away for now, and the squirrels are, too. (I probably just jinxed myself by saying that…)

I'm hoping that the chickadees, titmice, nuthatches, and even the Carolina Wrens will use this feeder, in addition to the woodpeckers. So far I've only seen the Downies at it, but the other birds are more interested in the new peanut feeder. I spent an hour or so this afternoon watching the jays and titmice come and go. There were even a few white-throated sparrows carrying off the peanut tidbits dropped by the bigger birds above them.

I would love to see a Pileated Woodpecker at this feeder, but they're not in this area. Who knows, maybe they are and I just haven't spotted one yet. Pileateds are another nemesis bird of mine.

While this isn't a great pic, you can see how this female (no red cap) is using her tail feathers to prop herself against the feeder, the same way she would do while feeding in a tree. I had wondered if birds would find anything to grip onto with this feeder, because the surface is so smooth, but it looks as though she has her feet gripped onto the lip of the suet plug.