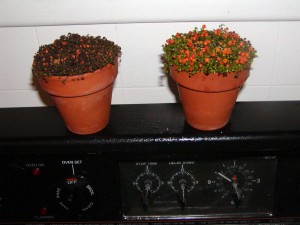 We had my favorite for dinner on Sunday night – Spaghetti! Pasta is more or less a forbidden food here since my husband found out a few years ago that he has diabetes. I love pasta and bread more than anything, except cheese, and miss eating it. I hardly ever get to have it for lunch even, because my lunch-buddy Deb makes me eat healthy salads everyday.

We decided to cheat, just once, because I was craving Spaghetti. I was totally decadent and bought nice Italian bread and whole milk ricotta cheese to mix with the pasta. Heavenly!

The DH ended up in charge of cooking while I wandered off to do something else. While I was cleaning up the dishes and stove I discovered the poor charred houseplants that I had left on top of the stove to drain. The one on the right is more or less okay, just a little singed around the edges, but the other is totally baked. I wonder, do you think it will recover? 😉

If you're interested, the plant is called a Pin Cushion Plant or Coral Bead Plant (Nertera granadensis) and is a weird little houseplant in the madder family sold around Halloween. I read that it's native to moist, boggy places in New Zealand and Tasmania. Apparently, it doesn't do well on the stove, despite all the steam from the boiling pasta.