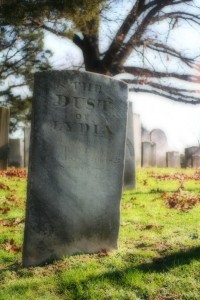 I found myself wandering around an old cemetery today on my lunch hour. I had gone intending to take some photos of Old Tennent Church, founded in 1692 and used as a temporary field hospital during the Revolutionary War. Instead I wandered around looking at the gravestones, many of which are from the 1700's. The church building was closed, but some of the pews are said to be scarred from the surgeon's saws and the blood of soldiers who died here during the Battle of Monmouth and are buried in the churchyard. There are two huge old oak trees that frame the entrance to the church, set on a hill.

It felt strange to be taking photos of gravestones, but many of them are interesting. The oldest are so simple and different in their sentiments on death compared to the laser-carved ones that are seen in the modern part of the cemetery. The modern versions seem to be more about comfort and a sense of prestige for the living, rather than a memorial for the deceased. The oldest tombstones are frightening in the images they depict and the warnings they contain to passerby. A popular epitaph from the 18th century reads, "Behold and see as you pass by, as you are now so once was I, as I am now so must you be, Prepare for death and follow me."
This curiosity about gravestones and cemeteries comes in part from thinking about them the past few days. I'm wondering what role they play in the mourning process for the people left behind. My closest friend, who lost her dad in the last year, had the *unveiling* ceremony for her dad's monument this past weekend. It's the custom in the Jewish religion to hold this ceremony close to the one year anniversary of a person's death. I guess it's supposed to be one of the last steps on the path of grief for her. I've tried to be with her as she learns her way without her dad beside her. I've tried to give her the chance to talk often of her dad and share her grief with someone who understands it, but it's been hard to see her suffering the most personal loss of her life and not be able to do more than listen.
I hope that she'll continue to find strength in the practice of her faith and in her family. I know how difficult it must have been for her to see her father's name insribed on the gravestone. Perhaps the finality of that sight is the reason for the Jewish custom and the delay in seeing the monument. Maybe soon she'll find a way to see beyond his death, to the impact of his life and his love, and she'll come to understand that his values and ideals continue in her.